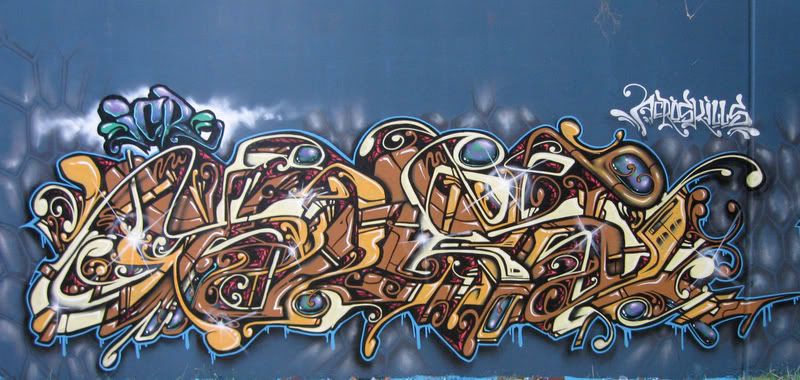 A FACT FOR THOUGHT ; REMEMBER ... ANTI GRAFFITI APPLICATIONS CAN WORK OUT GREAT, BUT, THE ONLY REAL ANSWER TO A
GRAFFITI PROBLEM
IS A
GRAFFITI SOLUTION
. IT IS QUICK, COST EFFECTIVE, AND IF YOU HAVE A LOCATION THAT IS REPEATEDLY HIT WITH VANDALISM, YOU CAN REST ASSURED THAT NO GRAFFITI WRITER WILL TAG OVER GRAFFITI MURALS LIKE THESE PICTURED HERE DUE TO RESPECT AMONGST GRAFFITI ARTISTS AND SAD BUT TRUE = FEAR OF REPERCUSSIONS & LOSS OF FACE AMONGST THEIR UNDERGROUND COMMUNITY.
BOTH NSW & WA RAILWAY DEPARTMENTS HAVE REALISED THAT THE ONLY TRUE COMBATANT TO ILLEGAL VANDALISM ON THEIR PROPERTY IS TO EMPLOY RESPECTED STREET ARTISTS TO FACILITATE TOP QUALITY MURALS IN THESE HARD HIT LOCATIONS. THUS SOLVING A MAJOR FUNDING ISSUE AS WELL AS PLEASING THE COMMUNITY WITH BRIGHT ATTRACTIVE ART SPACES THAT ARE BEING RECEIVED WITH OPEN ARMS BY LOCALS.
WE ARE JUST WAITING FOR QLD TO CATCH ON THAT THIS IS THE ONLY REAL LONG TERM SOLUTION, BUT SADLY IT SEEMS WE ARE STILL MUCH A POLICE GOVERNED STATE & WE CONTINUE TO WASTE MONEY ON INEFFECTIVE 'BAND AID' REMEDIES THAT COST
YOU
,
THE TAXPAYER
, YOUR HARD EARNED DOLLARS THAT COULD BE SPENT ALOT MORE WISELY IN PREVENTATIVE MEASURES.
IF YOU HAVE COME TO THE CONCLUSION THAT "IF THERE IS GOING TO BE GRAFFITI ON OUR WALL? WE MIGHT AS WELL HAVE GOOD GRAFFITI ART ON IT RATHER THAN UNSIGHTLY TAGS?" THEN AAARDVARK HAS YOUR SOLUTION.